Pet Stain & Odor Removal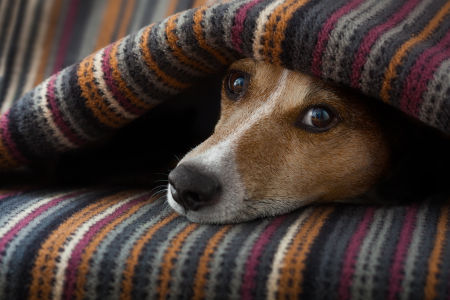 Nothing can dirty up your home's carpet or furniture quite like a pet. Urine, feces, paw prints, food scraps, slobber, and dirt from the outside – the list goes on and on. Much of the dirt and grime comes from the times that we didn't catch the beloved animal in action. Even the most trained animals slip up now and then. Over time it can practically ruin your carpet or furniture, stink up the house, contaminate the air, and make everyone sick. Even surfaces such as tile and wood can soak up pet stains. When it's obvious that the average house cleaner won't do, it's time to hire a professional. Advanced Carpet Cleaning can get your home back in top shape. We deodorize AND sanitize your Louisville home. Nothing your pet puts out is too strong for our carpet cleaning service.
A Clean Environment
Think about all the things that get trapped in your carpet. Much of it will never be sucked up by the vacuum cleaner or amateur carpet cleaner you just rented. These items were not designed give your carpet or wood floor the deep cleansing they deserve and restore them back to their maximum potential. All that gunk makes your entire home environment unhealthy. Think about all the fumes you're breathing in. Yuck! This unsanitary environment is bad for you, your children and your pets. A cleaning from Advanced Carpet Cleaning will thoroughly sanitize your home and dramatically improve the air you breathe.
Your Home's Appearance
When it comes to your home, appearances are everything. No one likes to walk into a friend's home and see dog or cat stains spots filling up the floor. It's an instant turn off. Potential Homeowners will not buy a home that they feel is dirty or unsafe. A clean, healthy carpet will give your home instant appeal and drastically increase its value. Never be embarrassed again by your pets. Let Advanced Carpet Cleaning clean your carpets so you host that next party at your home!
Who Wants to Sit in ...?
We clean carpets. We clean floors. We also clean furniture. If you allow your pets to climb up on the couch, then chances are your furniture is just as dirty as your floors. This makes our home twice as dirty and unsanitary, because now we have direct contact with all the stains that our pets create on the floor. Let Advanced Carpet Cleaning restore the beauty and appeal that once attracted you to your brand new furniture. Clean furniture last longer, has greater resale value, and brings you peace of mind. It makes it much easier to lay your head down on the couch!
Recent Pet Stain & Odor Removal Articles
Carpet Cleaning Spot Remover - Pet Stain & Odor Remover Recipe - Do you use a carpet cleaning spot remover around the house? If so, this recipe is highly effective and has zero residue and multiple uses. What more could you want? You should always pre-test in an inconspicuous area and use at your own risk. Tired of […]
Recent Pet Stain & Odor Removal Projects
Carpet Cleaning for Pet Stains in Louisville, KY - This customer called us to get help with pet stains on their carpet. At first glance, this carpet looked like it was beyond help, but our professional carpet cleaners were able to make the carpet look brand-new! No matter how dirty your pet made your carpet, […] Call Now To Schedule Your Louisville Carpet Cleaning Services!