Carpet Cleaning Spot Remover - Pet Stain & Odor Remover Recipe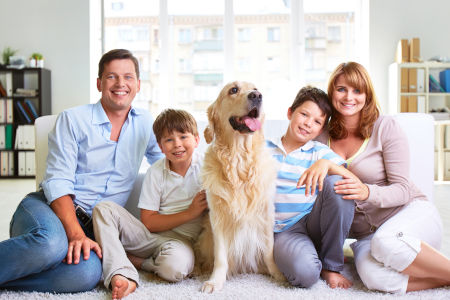 Do you use a carpet cleaning spot remover around the house? If so, this recipe is highly effective and has zero residue and multiple uses. What more could you want? You should always pre-test in an inconspicuous area and use at your own risk. Tired of wasting money on spotters that don't do what they claim? $4.00 to $8.00 per 12 oz. bottle, only to leave a terrible residue if not rinsed fully. In turn, attracting soil at a rapid rate causing the area to be worse shortly after normal traffic. I have a recipe for a very effective carpet cleaning spot remover and pet stain and odor remover. They can be used on carpet, upholstery, laundry, draperies, and auto upholstery.
WHAT YOU WILL NEED:
Small box of regular "Powder Tide Only"
Good quality quart spray bottle with good trigger sprayer
Med bristle brush
White cotton towel
White distilled vinegar
Why use powder Tide? What powder tide does when it dries it returns back to its original powder state to be vacuumed out. Unlike any other carpet cleaning spot remover.
HOW TO MIX: Fill bottle with warm to hot water first. Then add 1 Tablespoon powder Tide.IF making for pet stain and odor, Make separate quart squirt bottle with a good trigger sprayer almost fill with water only add 1/2 cup white distilled vinegar – don't use vinegar mix on wool or other natural fibers, cotton, silk etc ... may cause color bleed always pretest.
HOW TO USE: Never over spray. Hold 10 to 12 inches away from spot.
General Spot Remover
Mist spot with good wide even spray 2-4 sprays even wide mist
Then use brush to agitate counter and clockwise, north, south, east, west till spot is gone
Buff with white cotton towel to absorb solutions and soils and buffing will polish that fiber sometimes removing more of the stain giving best appearance possible
Pet Stain & Odor Remover
Remove as much contaminate as possible
Mist spot 3-4 with vinegar/water mix if odor is present. Work in vinegar mix with brush followed by misting spot 3-4 more with Tide mix spot remover. What that did is get vinegar mix as deep as possible to counteract the urine odor leaving cleaner on top to work on spot removing always use brush. Then buff with towel absorbing solutions and contaminates Buffing will polish that fiber sometimes removing more of the stain giving best appearance possible.
OK now to the best part the savings: One small box of Tide $9.00 MAKES 200 ready to use Bottles. Buying a spotter bottle from the store $4.00 x 200 ready to use bottles = $800.00.$9.00 -VS- $800.00) Share this recipe with friends and family. Call Now To Schedule Your Louisville Carpet Cleaning Services!