Commercial Carpet Cleaning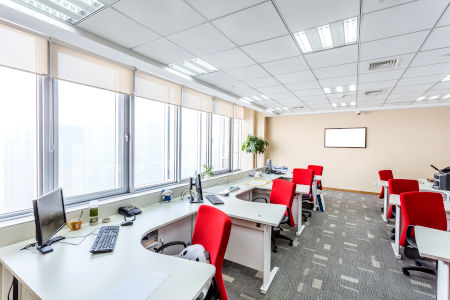 Carpets in the workplace can build up dirt quickly, high traffic areas and paths tend to get always brunt of the dirt and grime. Keeping these areas clean is a must, for both employee safety and comfort as well as for presentation purposes. Protect your flooring investment today with Advance Carpet Cleaning today, by setting a free visual inspection to determine the type of cleaning your business needs!
Professional Louisville Floor & Carpet Cleaning Technicians
When selecting a floor & carpet cleaning service in the Louisville, KY area such as Advance Carpet Cleaning, keep in mind that you will be working a professionally trained carpet cleaning technician, with professional cleaning tools. We have an extremely flexible schedule, so we can work around your schedule to not interrupt business hours.
Floor & Carpet Cleaning of All Types
No job is too big nor too small for Advance Carpet Cleaning, from huge several thousand square feet office buildings to smaller single room offices, management or employee areas. Our professionally trained carpet cleaning technicians are trained to encounter all types of: Carpets, Area Rugs, Hardwood, Tiles and many other various flooring varieties.
Recent Commercial Carpet Cleaning Projects Call Now To Schedule Your Louisville Carpet Cleaning Services!