Water & Flood Damage Cleaning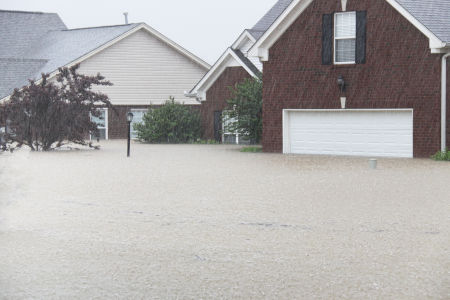 Flood water damage can be devastating to your Kentucky home and cost you hundreds of dollars in damage. When disaster strikes you need a Louisville carpet cleaning company you can depend on to provide you with fast water removal service that is affordable and dependable every time. Contact Advanced Carpet Cleaning for all your water damage needs. With one phone call we will promptly arrive at your home, assess your needs and then go to work clean and restore your home's flooring. We treat all types of flooring that includes carpets, rugs, tile, wood, sub-flooring and all other materials.
Complete Water Extraction & Floor Treatment
With flood damage also comes the potential for contamination, stains, and mold. All of this can happen within 24-48 hours of water contact. With Advanced Carpet Cleaning we do more than just clean your carpets and flooring. We provide treatment that kills all bacteria, mold, and tough stains, so that your floors are not only clean but also disinfected. This creates a safer, healthier environment for your entire family and gives you long-term results that last after the flooding is gone. We also insure that the entire area is completely dry and free from moisture. You get comprehensive Louisville water extraction service that covers all areas of flood and water relief.
Commercial Flood Cleanup Services Available
When it comes to your business you can't allow water damage and flooding to interrupt your company's daily operations. As business owner's no one understands this better than Advanced Carpet Cleaning. If your commercial property has been recently affected by flood water damage, then let our team of certified water damage restoration experts in Louisville come in clean all your flooring and restore all the areas affected by the water. We realize that time is critical for you to open your doors back up, so we work fast to get the job done. We utilized modern advanced technology and equipment that allows to provide you with efficient service, that is affordable. We can help your business recover from flooding in no time at all.
Go With The Pros
With over 15 years of direct industry experience, Advanced Carpet Cleaning as built reputation in Louisville, Kentucky as a premier carpet and flooring restoration company. Our entire team of technicians and contractors are Kentucky state licensed and certified in all areas of residential and commercial cleaning. No matter how small or large your job is we can tackle it with absolute precision and care and take care of any type of surface. We are dedicated to providing you with the highest level of customer satisfaction. Next time you have water damage from leaking or a flood, simply give us a call, and let our team go to work to restore your carpet, rug, tile floor, or hardwood. We are the cleaning experts! Call Now To Schedule Your Louisville Carpet Cleaning Services!