Louisville Carpet Cleaning Company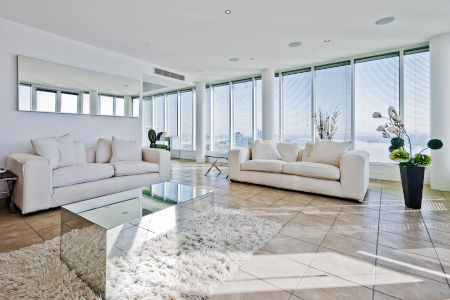 Few homeowners pay as much attention to the cleaning of their floors anymore than is often necessary. Carpet cleaning is one of the most tedious house cleaning tasks there is.
Vacuuming and spot cleaning seldom does a good enough job of keeping dirt and germs at bay, and stains are often allowed to sit for longer periods of time. The only way to guarantee that your carpets are as clean as they should be and help protect your family's health is to call on a professional carpet cleaning company. Our Louisville carpet cleaning services use professional carpet cleaning equipment and cleaning compounds that can penetrate deep down into your carpets and leave your home feeling cleaner and fresher than ever before.
Louisville Hardwood Cleaning
With our expertise in cleaning a wide selection of stained hardwood flooring, including pre-finished hardwood, you can rest assured that your wood floor cleaning job will turn out beautifully!
At Advanced Carpet Cleaning we provide a variety of hardwood floor cleaning products and services for both residential and commercial application. Some of our hardwood floor cleaning services can include: hardwood flooring installation, pre-finished hardwood flooring, sanding and refinishing hardwood floors, buffing and coating wood floors, hardwood floor repairs, custom borders, custom wood flooring installations, a variety of staining options, and installing/finishing stairways.
Louisville Upholstery Cleaning
Knowing proper care for the type of furniture can help you take utmost care of it. Inexperienced or unprofessional upholstery cleaning company can sometimes cause discoloration and damage to your furniture. Some furniture experts advise against oiling teak furniture as it may possibly cause irregular coloring or mildew. For teak furniture cleaning, special teak cleaner may be used to restore the furniture to its natural brown shade. No matter what type of furniture upholstery you may have, we can provide full cleaning and care for your upholstery. Give Advanced Carpet Cleaning a call today to schedule a free estimate and consultation.
Recent Projects in Louisville, KY
Commercial Carpet Cleaning for Pizzeria in Louisville, KY - Doing some heavily soiled carpet cleaning here at a local pizzeria in Louisville Ky. Utilizing our truck mounted steam cleaning unit set at 250 degrees and some of the best cleaning agents makes jobs like this look easy. […]
Tile & Grout Cleaning in Louisville, KY - You don't know how dirty your tile and grout is until you have it cleaned by the pros! This Louisville homeowner was shocked at how clean we were able to get their tile and grout. The final results were amazing with the help of our surface […]
Reviews & Testimonials from Louisville Customers
Our carpet and area rug looked new! Very pleased. Up to date equipment. Fast and efficient. Good fair costs. I would definitely recommended to neighbors and friends.
Repeat customer. Great job! Will definitely use again.
Applause for this independent owner operated business. Fantastic results with carpet cleaning including pet treatment. I did not think some of the carpet blemishes could be removed but Chris proved me wrong! Great job!! I'm telling everyone I know that Advanced Carpet cleaning is the ONLY Louisville carpet cleaner they should consider.
I am very pleased with the service I received from Advanced Carpet Cleaning. Chris did a great job! He was timely and very professional. We had pet stains that needed to be treated. He not only treated the stains we knew about, but found ones we did not know about. Chris is very knowledgeable and was helpful in providing tips to help if we get pet stains on the future. I would highly recommend Chris and his company!
I got my carpets,upholstery tile and hardwoods cleaned and WOW what a great job Chris did!!! I couldn't believe how new he made everything look again. Not only does he do a superb job but he is a very nice guy and goes the extra mile to make sure you are happy in the end. I have you several different companies over the years and he is by far the best I have had yet. Highly recommended with two thumbs up!!!
This is hands down the best carpet and tile cleaning I have ever had. Chris was prompt, professional, and extremely knowledgable. He was quick, but very thorough and detailed oriented. My carpets are old and had several stains and tile gout was very dirty. Both tile and carpets now look incredible and almost like new. I never dreamed that was possible!!!! Plus the rates are great. I cannot say enough good things about these guys. I would not hesitate to use them for awesome results. Thanks again for amazing results and service!!!!!
Advanced carpet cleaning made the old stained carpets in my new home look fabulous! Chris was professional and worked quickly. We will be using advanced carpet cleaning in the future for our carpets and hardwood floors.
My carpets look brand new but they are 15 years old! I had to reschedule twice due to weather and delayed painting and the owner was very understanding and courteous.
Advanced carpet cleaning did a great job on my couch. They got all the stains off. My bedroom also looks amazing. Very courteous and arrived promptly.
Spectacular Work !! My carpets are back to their original color again ..I couldn't be happier ..
Awesome job every time!!!!
excellent work by advanced carpet cleaning.my carpets have never looked better . all of my pet stains on the carpet and furniture are gone . thank you for your expertice chris. very affordable and professional . you will be recommended to all my friends and family
I am so very pleased! Chris just left and our house with it's white carpet never looked better. It was extremely dirty in the traffic areas, but now it is bright and fresh looking. In just 2 hours he did all of this and it is nearly dry!! Thanks, Chris, for your attention to detail and your thoroughness. This is the only service I will ever use.
Advanced Carpet Cleaning was able to offer me same day service after my dog had an accident on my carpet. They were very friendly and on time. I was very impressed with their service and highly recommend them. I have had other cleaners promise to get the spots out of my carpet and they reappeared days later. It has been weeks now and the spots from my dog have not reappeared. I am 100% happy with the experience I had with Advanced.
I wanted to thank Chris for such a great carpet cleaning experience. I have 3 little dogs and not only did he have my carpets looking brand new the house smelled amazing!! All for an affordable price! You can't beat the professional service and such a nice guy! I would recommend Advanced Carpet Cleaning to anyone!
Excellent service at an excellent price! Chris was timely, professional and delivered great results.
If anyone is interested in using Advanced Carpet Cleaning, this guy is awesome! Very honest and very reasonable. I used Maxcare & paid big money. 3 mos later, stains reappeared. I called Chris & have never used anyone else since! You will not be disappointed!
A few months prior to calling Advanced Carpet Cleaning, I had used a very well-known, "reputable" company to clean my carpets. I was not at all pleased with the outcome. I contacted ACC shortly after getting an ad in the mail. I have to admit, I was leery since I'd never heard of them, but the price was enticing. I'm a firm believer that you get what you pay for, but since I had just had my carpets cleaned, I didn't want to throw a lot more money into them. I have to say I was impressed! Chris out did the "other" company by a longshot! He is not only reasonable, but honest, professional & lets you know he cares. I will never use anyone else again! I love the small business, personal feel from ACC that bigger, commercial companies have lost. I am a customer for life!
Chris cleaned our carpets yesterday and did an amazing job and he is very reasonable. Highly recommend
My co-worker Linda Powell thanked me for referring her to you. She was so pleased with the work you did at her home she said she will definitely use you again, she said you was the only one able to get the stains out of her carpet. She said she's not using Stanley Steamer again. Thanks you so much for your consistency and great service to all my friends.
Had my carpets cleaned by Advanced this morning, they look wonderful!!! I was shocked when I came home from work to see how clean they were and ALL the stains gone. I would definitely recommend using him. Extremely reasonable also.
I will never go back to big name carpet cleaning companies again! This guy is awesome, honest & puts the rest to shame…product-wise & price-wise. I don't endorse companies very easily, but this one's worth it! Call Now To Schedule Your Louisville Carpet Cleaning Services!