Benefits of Louisville and Prospect Tile & Grout Cleaning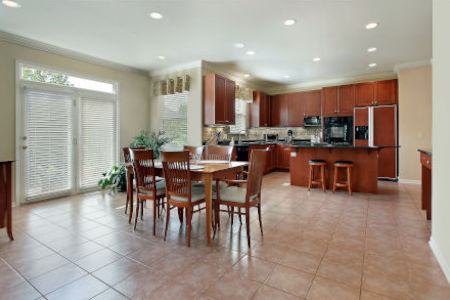 Have you begun to notice that the tile floors in your Louisville or Prospect home look dirty, rundown and all around embarrassing? Making the decision to put in tile floors, or other tile surfaces, is a smart one; the look is one of the most appealing there is. However, not every homeowner realizes ahead of time that they are in for a lot of work if they do not take care of your tile and grout flooring and the maintenance involved.
What it Means for You
One thing to keep in mind is that this dirt you can see collecting in your tile and grout is not just unsightly, it is unhealthy. It means you have trapped dirt which also means germs and possibly mildew or mold. So it makes sense to want to make sure that you get this cleaned on a regular basis.
Grout, especially, is a porous surface which means that it is easy for unwanted dirt and grime to begin to collect and even grow. This means that conditions are less than sanitary unless you are able to get these surfaces clean. Yet, in all honesty, this is not the level of cleaning work that you should be trying to do on your own; it should be left to professionals.
Of course, taking better care of your tile and grout means also being able to better protect your investment. Tile flooring is one of the best ways to increase the property value of your home but only if you are also able to take care of that flooring. So make it a point to call on trained and experienced experts who can take care of tile and grout cleaning services for you.
The Name to Trust
Once you have realized the importance of hiring professionals to take care of your tile and grout cleaning, the next step is finding the crew to take care of it for you. When you call on the crew here at Advanced Carpet Cleaning you can rest assured that you will love the results that you get. We are all about providing our clients with the best results possible so that your home looks clean but actually is a clean and sanitary place.
We have close to 20 years behind us and retain 100% customer satisfaction for every client on every job. So when it comes to your Louisville or Prospect tile and grout cleaning, you can count on us. Let us show you in person how we have earned the reputation that we have. You will feel good about finally having the level of clean you need for your home you have always wanted. Call Now To Schedule Your Louisville Carpet Cleaning Services!